As you know the summer busy season is about to end here and July is normally the highest month for closings. This seasonal trend does skew the averages but also helps invigorate the market as well.
Comparing July 2019 to 2018 does show the true story of our market. More homes sold this year and the median sold price was only $3K less than 2018. The average days on market did increase by 13 days. As we all know a lot of houses are staying longer on market even here in Heritage Lakes. There are even now a lot of houses that are not selling and canceling or Expiring. This was unheard of 2-3 years ago.
This is what I have been calling the New Market compared to the Old market of 2016 and even some 2017. The market is cooling off and coming back to normal. There is more inventory for buyers to shop which is causing the decrease in the Sold to List Ratio (95.5% for 2019 YTD). Currently Frisco has 4.2 months supply of Inventory. This is a dramatic change from 2016 when it was 1.2 months of supply. It is still under 5 months which is an Even Market and not yet a Buyer's Market.
I hope this in-depth information helps you become educated on our market here in Heritage Lakes. So when someone says its a HOT market and it'll sell in a day with multiple offers you have statistics and information on how the market Really is not just rumors.
Now don't get scared if you are thinking about moving or selling. There are a lot of houses in Heritage Lakes that sold quickly. It is just more important than ever to have an informed agent. Because if the house is not marketed and priced correctly it will get lost in the sea of inventory and that means less money.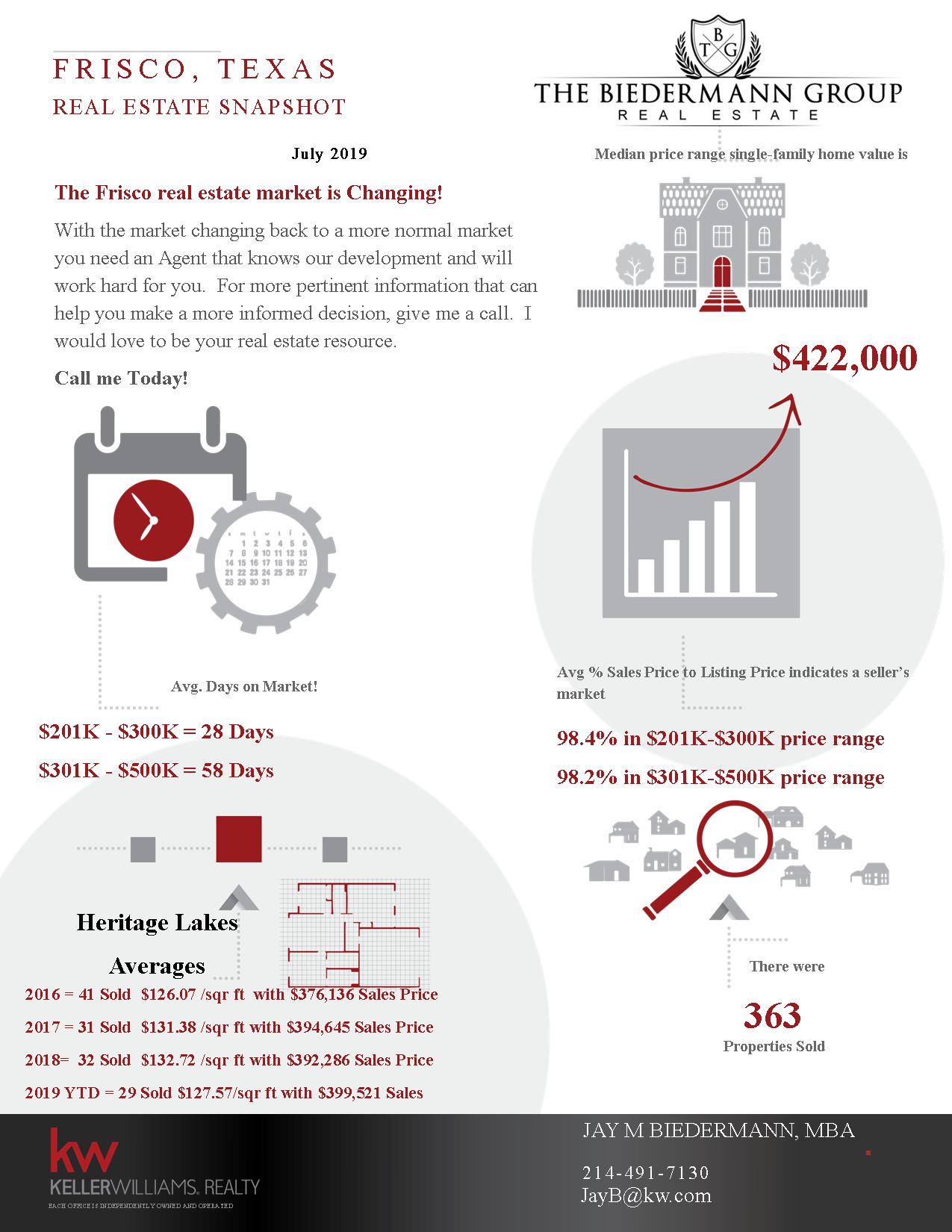 Feel free to call me if any questions or more info on our services. I'm here to help as the local expert for all your Real estate needs.
Thank you very much!